Essex is famous for traditional seaside towns but the rest of its 350-mile-long coastline is not so well-known. Stretching from the Thames estuary, the county's meandering coast winds through miles of saltmarshes, sandy and shell-covered beaches and dramatic wild landscapes until it reaches the banks of the Stour at Manningtree.
It's not just locals that love the coastline, A-list Hollywood stars, Tom Hiddleston and Claire Danes, recently filmed 'The Essex Serpent' by Sarah Perry, along the county's shoreline and the crew from Downton Abbey were recently filming in Harwich's historic streets.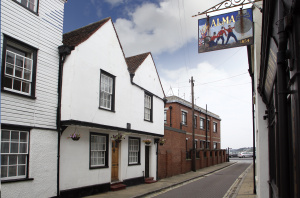 Nature thrives along the Essex coastline, it is home to native oysters, seals and many species of wading and migrating birds, making it the perfect place for lovers of the great outdoors to explore over a long weekend or mini break. For inspiration on places to stay, eat and explore visit www.visitessex.com
Visit our Essex Sunshine Coast news blog for the latest updates.