2021 is the year Clacton-on-Sea celebrates its 150th anniversary and to commemorate this momentous occasion the National Lottery Heritage Fund (NLHF) are funding a seafront heritage trail in Tendring from Jaywick Sands to Holland Haven but also incorporating Clacton town centre to celebrate the 150th anniversary of the founding of Clacton-on-Sea. The trail will cover over 5 miles of beautiful coastline and will include new technology to help bring it to life as well as a fun and engaging way to convey Clacton's story. Listening benches and audio posts will also be added to join and connect individuals with the stories of Clacton through the years.
There are many other projects and celebratory events linked with the trail some of which includes:
Octopus Ahoy! art sculptures. As part of the celebrations, for 10 weeks in this summer of 2021, from 25th June to 5th September, the Octopus Ahoy! art sculptures will form a public art trail across Harwich, Tendring and the wider Essex area to celebrate 150 Years of Clacton and the Mayflower 400™️. To take part, download the Octopus Ahoy! app this summer and win prizes for scanning each octopus whilst enjoying locating the sculptures and admiring the amazing art by local artists. Visit www.octopusahoy.co.uk for more information.
A flower feature to mark the celebrations will be on display in the chain plot located next to the stunning memorial garden along Clacton's seafront. The Memorial Garden contains beds with high quality formal bedding displays and a central area with seating around a War Memorial to those who died in the First and Second World Wars. This garden is a popular meeting place for both residents and visitors.
Clacton150 Anniversary Wheel. Clacton Pavilion has installed an observation wheel which towers above Clacton's seafront to mark the celebrations. The wheel consists of 24 gondolas, with many adapted for wheelchair access, and can hold a total of 144 guests at a time. Tickets can be purchased individually; however, afternoon teas will also be available to pre book which includes a ride on the anniversary wheel for free. Visit www.clactonpavilion.co.uk for more information.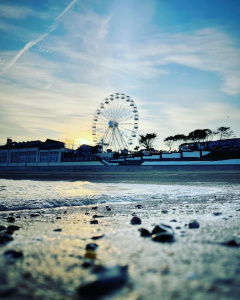 To keep up to date and for more information on the celebrations visit our page our Visit our Clacton150 web page, log on to our Clacton150 Facebook page or email us at clacton150@tendringdc.gov.uk
Click here to read the latest Essex Sunshine Coast news & blogs.