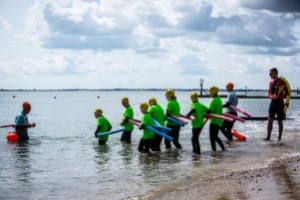 Children love swimming outdoors – but swimming in the sea, rivers and lakes is very different to swimming in a pool.
Created by Swim England and the RNLI and supported by a range of local partners, Swim Safe teaches children where it's safe to swim, how to float and what to do if they or someone else get in trouble.
The hour-long sessions are led by trained instructors and held during the summer months at outdoor water locations across the UK, including beaches and inland sites. We hold public sessions and sessions specially designed for school classes too.
Children need to be aged between 7 and 14 and able to swim 25 metres unaided to take part.
For more information or to book a Swim Safe session visit www.swimsafe.org.uk