Tendring District Council's (TDC) Beach Patrol service were involved in almost 150 incidents over the 2021 summer season.
The team, which is on hand to monitor main tourist beaches and provide advice as well as help with rescues, had a busy year with increased visitor numbers particularly earlier in the season due to Covid-19 international travel restrictions.
In total TDC Beach Patrol carried out 75 rescues, were tasked by HM Coastguard to support 24 incidents, and helped in the search for 48 missing people.
They also administered minor first aid 412 times and gave advice to dog owners about seasonal beach bans on 465 occasions.
This year teams were aided with new rescue boards, meaning more qualified members of the team could react more quickly and assist struggling swimmers before the situation developed into a full rescue requiring support from the emergency services.
In preventative work the Seafront Services Manager and TDC Beach Patrol team did live safety talks to 38 schools – some on the beach and some online – with a safety video developed by TDC based on the talk which has been shown to more than 1,000 children in the district.
TDC Beach Patrol staff also had to give advice about staying off groynes and rocks 938 times – boosted by the introduction of a dedicated Beach Patrol station at Clacton's Palace Breakwater – while families were given wristbands for their children to make reuniting any who got separated easier and less stressful for those involved.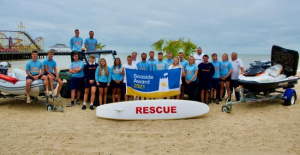 Alex Porter, TDC Cabinet Member for Leisure and Tourism, said he was incredibly proud of the TDC Beach Patrol team's work.
"TDC Beach Patrol is a real asset to our community, not only working to keep people safe – both before they go in the water and once they are in the sea – but also making our Essex Sunshine Coast an attractive option for visitors as it gives them peace of mind," Councillor Porter said.
"While it has been a busy season it has been a relatively quiet one in terms of major incidents, and it is pleasing to see that steps we have taken such as introducing a new station at Clacton and rescue boards have reduced potential rescues to simple advice.
"Our ongoing education work with the local community is also going from strength to strength, and though it remains challenging to give safety advice to visitors from outside of our area we can be assured we are helping our district residents to make sensible decisions when enjoying the seafront.
"As always we will continue to work with our partners in the Tendring Water Safety Forum to both review this year and look ahead to future seasons, to ensure we keep our coastline as safe as it can be for everyone to enjoy."
TDC Beach Patrol operate from seven locations across the district at the high of summer, working every day in school holidays and typically at weekends from Easter until September – though increased visitor numbers meant they were on duty more often this year.